Comment on this report, or find other reports.
Our Mystery Worshippers are volunteers who warm church pews for us around the world. If you'd like to become a Mystery Worshipper, start here.
Find out how to reproduce this report in your church magazine or website.
1045: Holy Trinity, Brompton, Kensington, London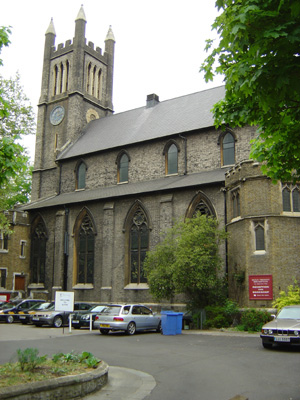 Mystery Worshipper:
Boanerges.

The church:
Holy Trinity, Brompton, South Kensington, London.

Denomination:
Church of England.

The building:
The church was built in 1826 in a very plain style known as Commissioners' Gothic. It has a five-bay clerestoried nave with balconies, a small projecting sanctuary flanked by vestries and a raised chancel. The west tower has lobbies on either side containing stairs to the galleries and down into the crypt. The modernised crypt has toilets, a kitchen, a bookshop and rooms for meetings.

The church community:
HTB is the church which started the Alpha Course and it has also founded many other charitable, evangelical and teaching programmes. It runs courses ranging from theology to playing the guitar. Its congregation is so large that it is divided into pastorates, which are small groups of about 20-30 people run by members of the congregation, most of whom are not in full time ministry. They meet fortnightly for prayer, worship, teaching, Bible study, food and fellowship. HTB has five services on a Sunday to cater for all those attending – see the website for details. The church also has its own retreat called Malshanger, just outside Basingstoke.

The neighbourhood:
HTB is hidden behind the Brompton Oratory and flanked by museums. Behind it are expensive flats and houses leading up to Hyde Park. Close by is Imperial College, Harrods and the Brompton Hospital. Its congregation is not only from the locality; people come from all over London.

The cast:
The vicar, Rev. Sandy Millar, did the opening, introduction and blessing. Rev. Nicky Gumbel talked about the forthcoming Alpha course. Rev. Jamie Haith gave the sermon.


What was the name of the service?

Evening service. An informal service of worship, teaching and ministry.


How full was the building?

Bursting at the seams. The congregation of approximately 900 people even sat in the choir stalls. There were more people outside in the churchyard waiting for next service.


Did anyone welcome you personally?

We were welcomed in a friendly manner by the person handing out service sheets at the door, and by others inside. The people who sat in front of us were also very friendly.


Was your pew comfortable?

We sat on modern, stackable chairs which were comfortable and suitable for services, but would probably be uncomfortable for long periods. We also had plenty of leg-room. We spent most of the time on our feet, praising the Lord in song.


How would you describe the pre-service atmosphere?

The congregation was waiting outside in the churchyard, but once the doors opened, the church filled up quickly. Everyone was very chatty, and the atmosphere was one of excitement and anticipation.


What were the exact opening words of the service?

"Welcome, welcome and a special welcome to those of you who are visiting us this evening."


What books did the congregation use during the service?

There were pew Bibles, and the words for the songs and prayers were projected onto a large screen and on numerous TV monitors.


What musical instruments were played?

Electronic keyboard, three guitars, cello, bongos, a full set of drums and two backing singers.


Did anything distract you?

The inevitable mobile phone went off in the prayers, and the man in front of me was so filled with the Spirit during the singing that he could not stand still.


Was the worship stiff-upper-lip, happy clappy, or what?

The service was well structured, co-ordinated and informal – but not too informal as to detract from its purpose: joyously worshiping the Lord.


Exactly how long was the sermon?

22 minutes, but it seemed like less than 15.


On a scale of 1-10, how good was the preacher?

9 – Jamie Haith was excellent, delivering a witty, sincere, thought provoking and biblically based sermon.


In a nutshell, what was the sermon about?

The sermon was based on the reading in John 20:19-23. Our preacher read out several newspaper quotes, some of which caused much hilarity, and each in turn gently directed our thoughts to a serious consideration of the reading and its meaning. The sermon ended with a short movie clip from the end of the film Alfie, which asked "What is the meaning of life, what is it all about?" Thankfully, there was no mention of general elections, popes or royal weddings.


Which part of the service was like being in heaven?

All of it! The worship was marvellous. It was a Spirit-filled time of rejoicing, praise and worship. The leader of the musical group was superb, sensitively directing the singing, and there was some clapping and arm raising, which was done with feeling and sincerity.


And which part was like being in... er... the other place?

After leaving the service, the realisation hit home that the next time I go to church it will be in the dead zone... in the lifeless, spiritless, dreary, dull, boring services at my local parish church.


If intercessory prayers were said, what issues were raised?

There were no intercessory prayers.


What happened when you hung around after the service looking lost?

My greatest disappointment was the isolation we experienced while we drank our coffee. It was consumed in the midst of a madding crowd of people going to and fro in the crypt. It was disappointing, really, that after all we had just experienced, nobody came to talk to us. We went into the bookshop and bought some books and CDs, which cost me a fortune. Next time, I will not take the family.


How would you describe the after-service coffee?

Palatable squash, tea and coffee in plastic cups. The hot drinks were probably fairly traded. There were no comestibles.


How would you feel about making this church your regular (where 10 = ecstatic, 0 = terminal)?

10 – I regret living so far away. A 60 mile round trip is just that bit too far. My teenage daughter asked: "Why isn't there a church like this nearer home?"


Did the service make you feel glad to be a Christian?

Definitely! Emphatically! It restored my faith in the Anglican church and its clergy. Somebody is doing it right, otherwise HTB would have poor attendances, like my local parish church.


What one thing will you remember about all this in seven days' time?

In seven days' time I will probably be listening to my vicar preaching a badly constructed, boring and biblically inaccurate sermon in my church. I will be remembering how much better church would be if we lived 15 to 20 miles away.
We rely on voluntary donations to stay online. If you're a regular visitor to Ship of Fools, please consider supporting us.
The Mystery Pilgrim
One of our most seasoned reporters makes the Camino pilgrimage to Santiago de Compostela in Spain. Read here.
London churches
Read reports from 70 London churches, visited by a small army of Mystery Worshippers on one single Sunday. Read here.